Listen up! On Saturday the 25th of March, Couleur Café launches a brand new party concept that goes by the name of Couleur café Club.
Dancing 9 to 5 to the most irresistible afrobeats, amapiano, kuduro, house, hip-hop and baile by 8 different live acts and DJs, spread over 2 stages, in the glorious industrial setting of BUDA BXL.

Couleur Café Club is completely sold out. We will not be selling tickets at the doors. If you want to buy a second-hand ticket, please only use TicketSwap.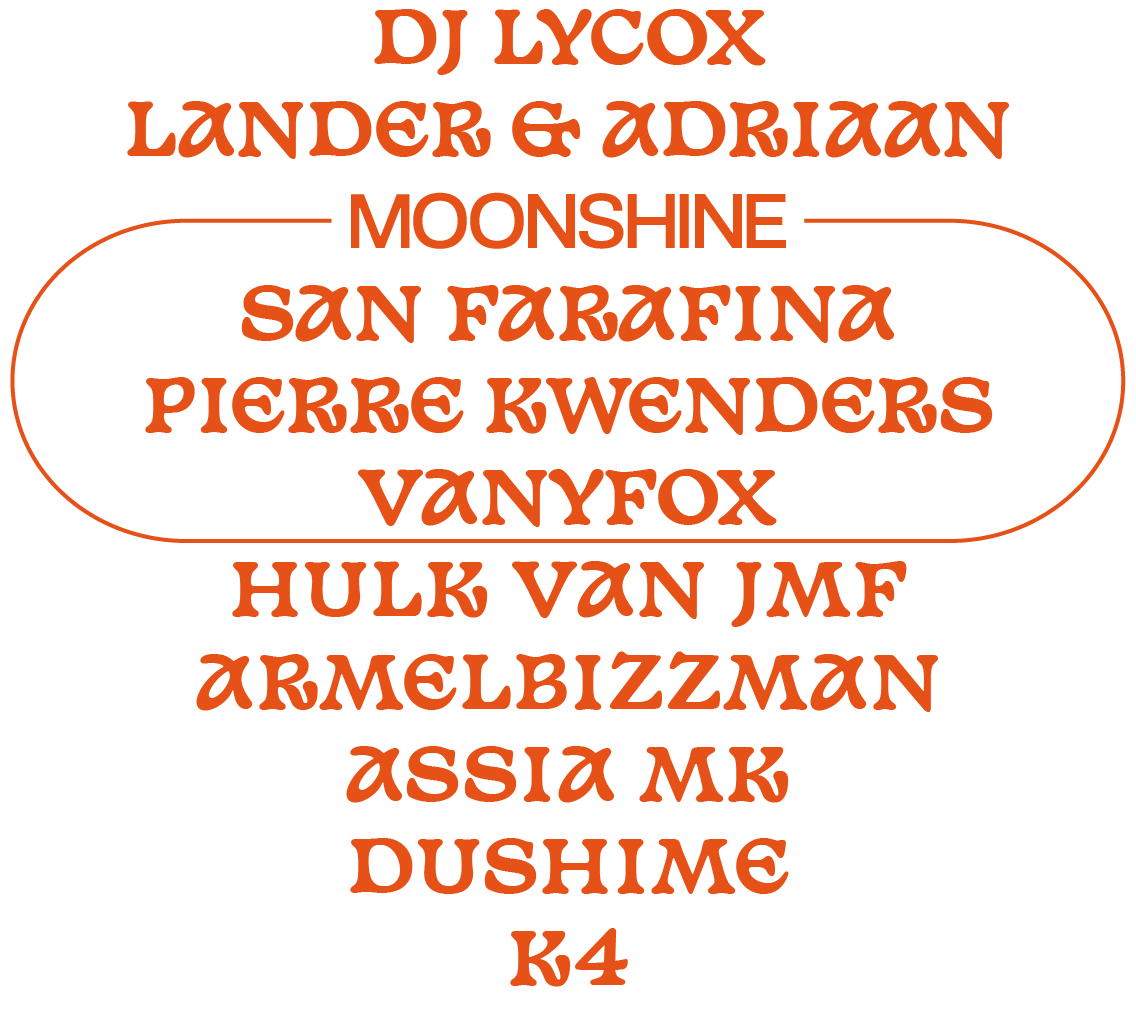 The Couleur Café Club line-up has landed
We are delighted to welcome the virtuoso drums & keyboard house phenomenon Lander & Adriaan, Portuguese DJ Lycox with his irresistible polyrhythmic grooves, the wonderful Dushime who made a solid impression at Niveau 4, one of Belgium's dopest DJ's: Assia Mk, the talented artist Hulk Van JMF, Armelbizzman with his impressive and unique DJ skills, the four-headed DJ collective K4 and some key-members of the Montreal-based collective Moonshine: San Farafina with her unique blend of afro sounds and percussive beats, the outstanding Pierre Kwenders with his one-of-a-kind mix of R&B and Congolese rumba and last but not least Vanyfox with his multifaceted, cosmopolitan and banging beats.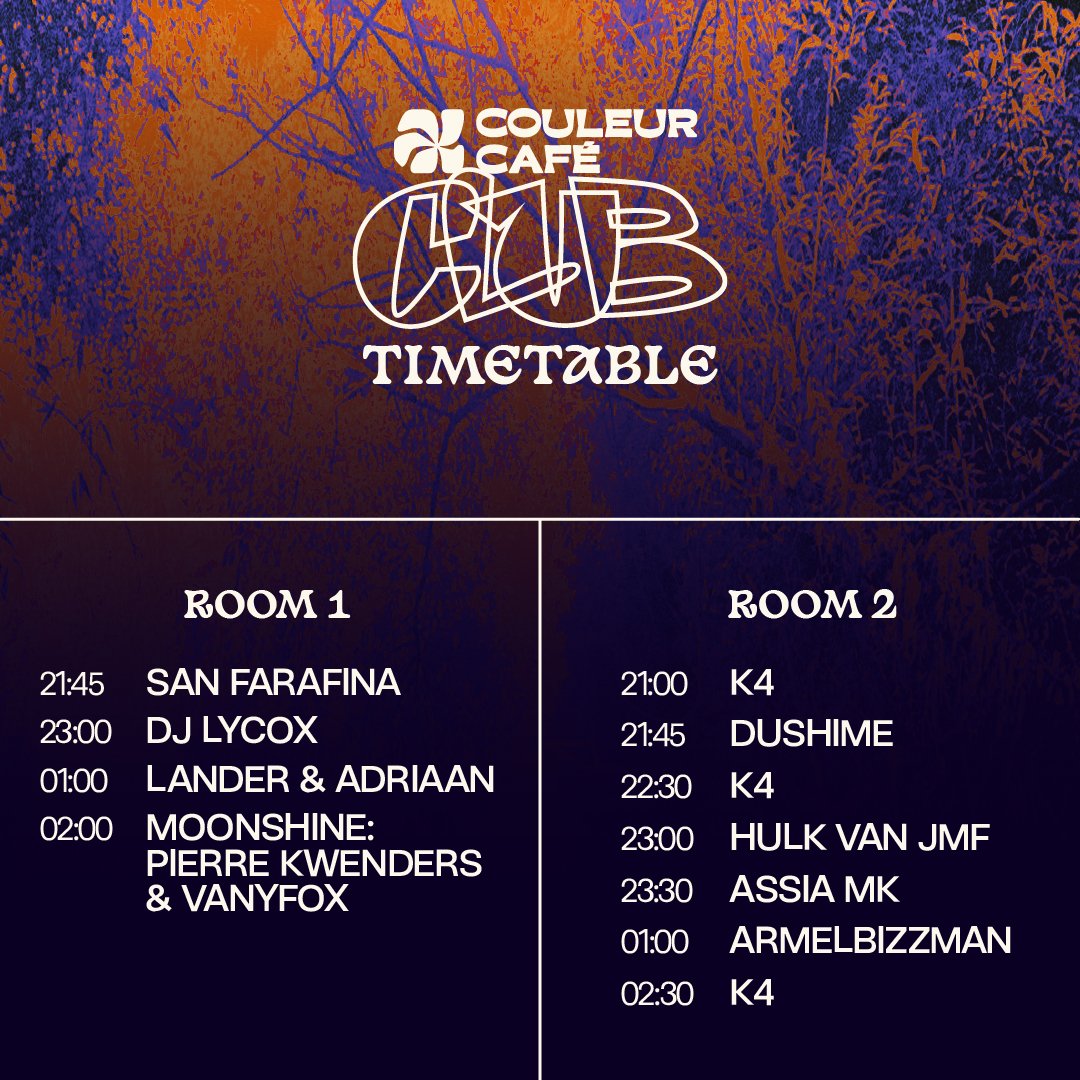 Where and when does Couleur Café Club take place?

This first edition of Couleur Café Club takes place in a superb venue called Buda BXL, located at Budasesteenweg, 96
1130 Brussels (Haren).

The doors open at 9 pm and close again at 5 am.
What is the best way to get to Couleur Café Club?

By bus: STIB line 58 runs from Albert II, near the North station, to Vilvoorde-Station. Get off at the Diegemstraat stop.

By bike: from the centre of Brussels it's a short and easy 25 minute ride, following the canal.

With TIER e-bikes or e-scooters:
New TIER user ? TIER offers you your first 10 minutes free of charge on the electric bicycles and scooters. Download the app, create your account with a phone number and a bank card. Go to the "VOUCHER" section in the app menu and enter the code CCCLUB. Hit the road and be careful!
Promo code (value: € 3.3) only works on 25/3/2023 and is limited to 500 users.

Already a TIER user? TIER offers you a 50% discount on your next 3 trips by bike or electric scooter. Go to "VOUCHER" in the app and enter the code CCCLUB50. Hit the road and be careful!
Promo code only works on 25/3/2023 and is limited to 100 users.

ATTENTION! BUDA Bridge closed
Is there a dress code to enter?

Come as you are and spice up your outfit with our brand-new merch available on site and online from the 25th March.

Does Couleur Café Club offer food or just drinks?

To satisfy your cravings and for your taste buds' pleasure, you can enjoy delicious home-made croquettes on site.
How much do drinks cost?

Drink beer, water, soft drinks or non-alcoholic beers for only €2.50 and sip your favourite cocktails for €7.50!

Buy your drink tickets by credit card, Bancontact or in cash.
How can you pay at Couleur Café Club?

Buy your drink tickets and delicious home-made croquettes via Bancontact or in cash.
Does Couleur Café Club have a car park?

There is no parking available but there should be plenty of space in the area to park your car. Parking along the canal is NOT allowed. Come and go safely home, provide a BOB!