Our festival entrance is located right beneath the Atomium (Atomium Square 1, 1020 Brussels). We strongly believe in public transportation and sustainable alternatives for cars.

Travel to and from Couleur Café with the Event Pass. Your journey on the STIB network (subway, tram and bus) is included, thanks to the Event Pass you'll receive alongside your festival ticket.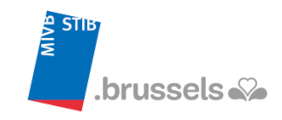 This mobility ticket contains a 9-digit code which allows you to obtain your STIB ticket. Retract your Event Pass Go on a GO vending machine, by entering the code on your ticket and receive your STIB ticket.
Couleur Café is easily accessible via the following lines:
Metro 6, station Heysel/ Heizel
Tram 7, stop Heysel/ Heizel
Bus 83 (N18 Friday and Saturday), stop Heysel/ Heizel
Tram 9, stop Roi Baudouin/Koning Boudewijn (a few minutes by foot)
Friday 24/6 :

Tram 19, stop Saint-Lambert/Sint-Lambertus
Tram 93, stop Stade/Stadion (a few minutes by foot)

Saturday 25/6 and Sunday 26/6 :

Tbus 19, stop Stade/Stadion (a few minutes by foot)
Night shuttles departing from the Atomium, offered with your ticket
6 shuttle bus lines depart from the Atomium every 15 minutes and serve the entire Brussels Capital Region. The shuttles are offered by La STIB-MIVB and La Région de Bruxelles-Capitale and are accessible to festivalgoers upon presentation of the Couleur Café bracelet. The night shuttles run from midnight to 3AM, from Friday to Sunday.
Plan your journey home with the mobility plan below.

Noctis Network included
From the Central station stop in the centre of Brussels (connecting with the E and F shuttles), 11 Noctis lines can be taken thanks to your Event Pass. The Noctis Network is only available Friday and Saturday, with a frequency of 30 minutes.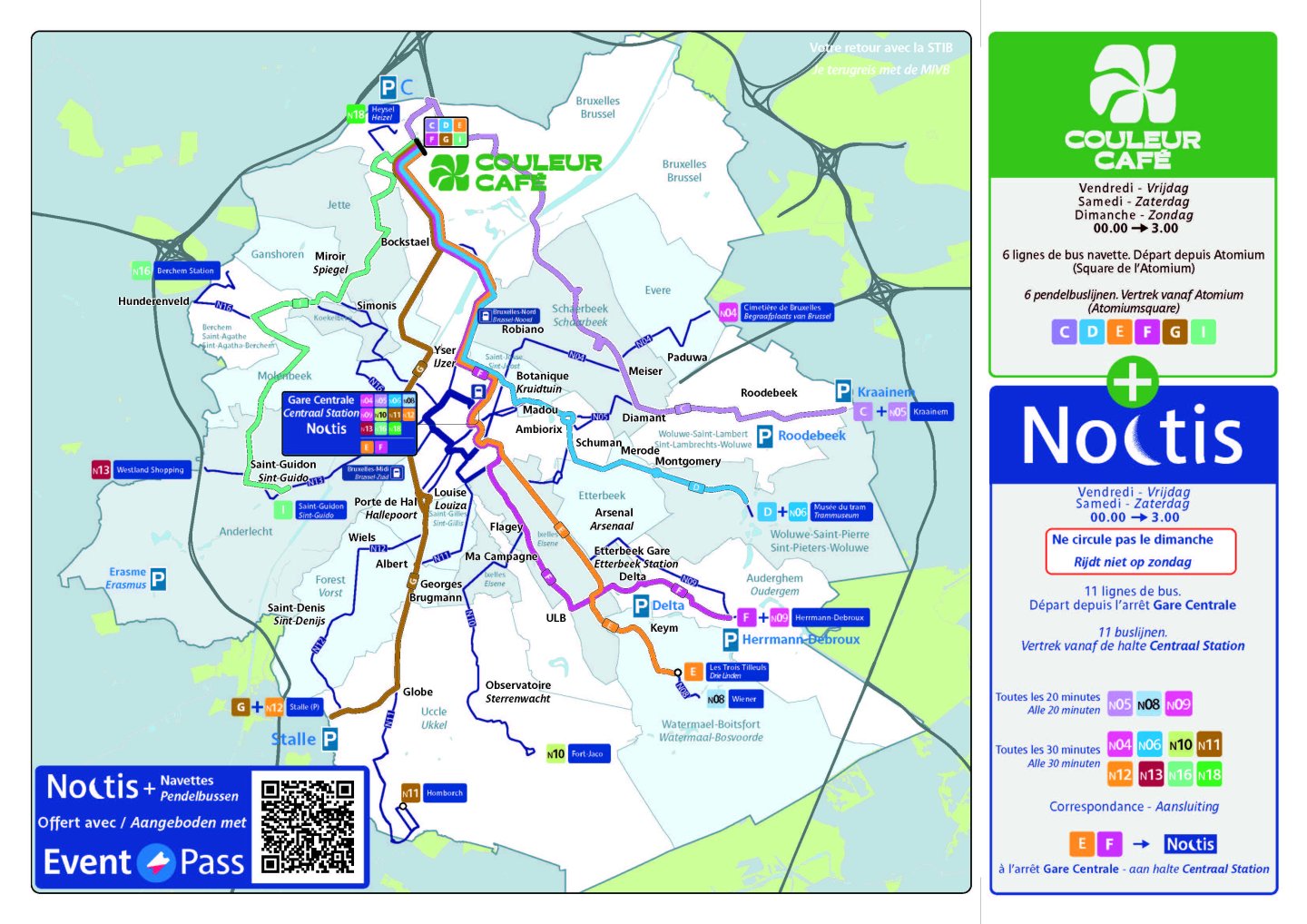 Make the right choice! Come to Couleur Café by train and travel return at half price!
Get off at Bruxelles-Midi station. From there, metro line 6 (direction Roi Baudouin) will take you in no time to Couleur Café (stop Heysel).
Buy your Event Train Ticket with the NMBS/SNCB code below on sncb.be/couleurcafe. This train ticket is valid for 1 outward and 1 homeward journey in 2nd class from a Belgian departure station to Bruxelles-Midi station in the period of Friday 23rd until Monday 26th of June 2023 included.
You can use the free Event Pass for your metro ride. Get the Event Pass at a GO vending machine of STIB/MIVB.
You're coming from abroad? Your Event Train Ticket is valid from the Belgian border till Bruxelles-Midi station.
Please go to sncb.be/couleurcafe for all info and tickets.

Bicycles are allowed on the metro and tram. There's a free and secure bike parking P1 on the Atomium Avenue, right by the festival entrance. The parking will be guarded by volunteers and will have a capacity of minimum 1000 bikes. People with reduced mobility can also park here for free.
Bicycle parking opening hours:
Friday 23th of June: 2PM - 3AM
Saturday 24th of June: 2PM - 3AM
Sunday 25th of June: 2PM - 3AM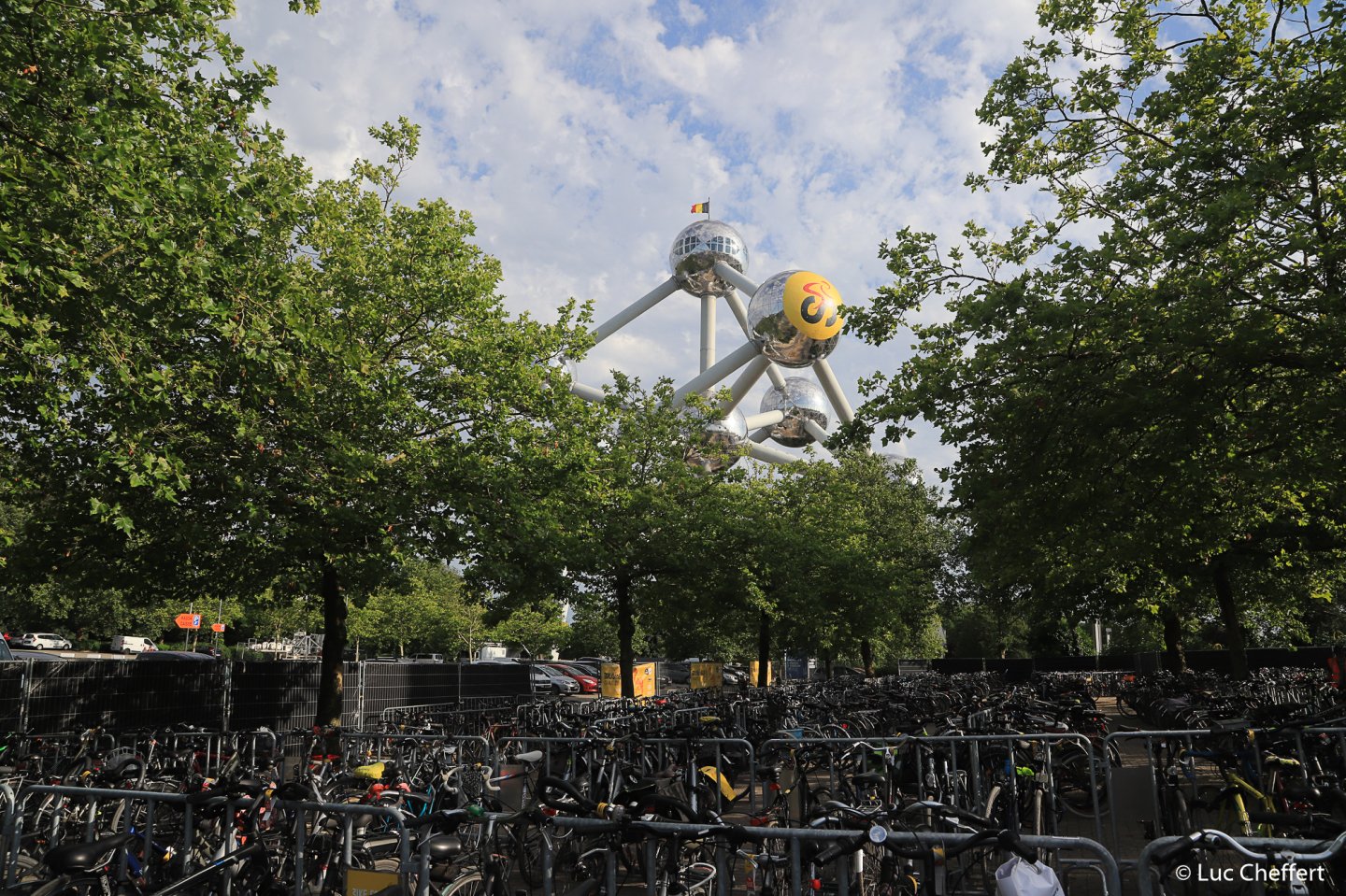 Where is Couleur Café located and how do I get there?

Our festival entrance is located right beneath the Atomium (Atomium Square 1, 1020 Brussels).

We invest heavily in public transportation.

With STIB you can easily travel throughout Brussels by tram, metro or bus. However, we do not yet have an official agreement for free transport this year and therefore, unlike previous years, cannot we (yet) send an Event Pass code. We are doing everything we can make this happen.

NMBS offers a special train ticket that allows you to travel at half price from Friday 23 June to Monday 26 June from any Belgian station. You will receive a special code for this with your festival ticket.

We also provide a large bicycle parking (right next to the Atomium) for everyone who wants to come by bike. Those who still want to come by car can try to find a parking spot in the neighboring streets or reserve a parking space on our own private car parking.

More info on our mobility page.
Is Couleur Café accessible for people with a disability?

It sure is! Read all about it here.
What are the parking options?

We strongly advise everyone not to come by car, for ecological and practical reasons; long traffic jams can occur around the festival grounds. For those who have no other choice and wish to come by car, these are the options:

P1: This parking is located on the Atomium Avenue and is only granted to crew and certain VIPs. If you didn't receive access for this parking, you cannot purchase it either. If you have been granted access, you'll find all necessary info on your parking voucher.

P2: This parking is located on the Madrid Avenue. You can obtain a parking spot for this parking via our ticket page. You'll find all necessary info on your parking voucher.

ATTENTION: your parking voucher is only valid until 8:00 AM of the following day. For example, if you have a parking ticket for Sunday 25 June, you must leave the parking before Monday morning 26th of June, 8AM. We therefore strongly advise people with a Camping ticket not to use this parking. It is also strictly forbidden to spend the night on this parking.

Car parks B, T, M and E are operated by Brussels Expo and are accessible depending on the events. You pay €10 per 24 hours, but we cannot guarantee that there will be a spot left during Couleur Café 2021. More info here.